Let me begin from a very positive note. Nitin from Roorki IIT whom I mentioned in part 1 (
Story Of Perseverance and Self-Belief - Shivganga Jhabua
) of these articles is not the only engineer there. His work has inspired three more Roorki alumni to join Shivganga Jhabua. The team of young leaders now compromises of local tribal boys and girls – some, who have not gone to school but are skilled, and the others from 10th pass to engineers. This gives us faith that Bharat of tomorrow is awake, and is willing to work for the nation.
I had written about two projects in last essay. To put it in short, they were around afforestation that led to better availability of water and regeneration of soil and green cover of the region. Today I begin with water. As noted in previous article, with loss of forest cover leading to drying of ponds and difficulty of ground water; locals faced serious issues in farming and water for homes.
Village ponds – regeneration and creation of new ones
The same idea of Halma that was used to create trenches that created Shiva's locks that hold Ganga raining from skies was and is used for regeneration and digging of new ponds - some small, some very big in terms of earthen dams. The local tribal brethren show them off with great pride. Then you realise the difficulties they face in getting them constructed with government help, problem of water management and how each step towards sustainable development and self-sufficiency is a giant leap for them. I visited two of the ponds. One in Petlavad village was of average size, the other was a reservoir that stores over 200 million litres of water in Rakhadia village.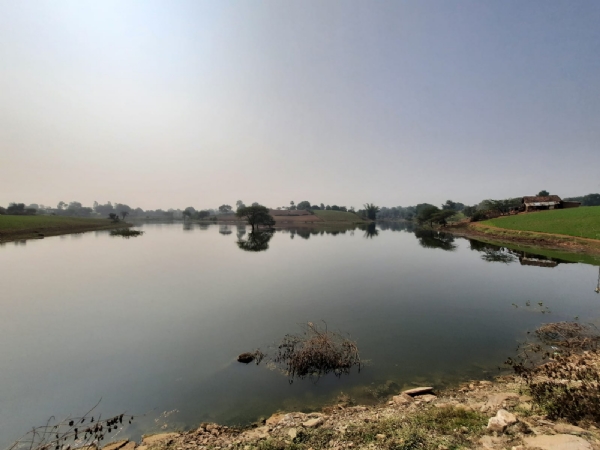 Punia Kaka the local head in the area told me proudly that a pond of the size they created in Rakhadia would cost 60 lakh INR if done by government. They spent only 6 lakhs as nearly everything was based on contribution of men/women and material and tractors etc was done by locals. Even land was donated by a local farmer as he thought that community need was greater than his own need. Not only the cost, even the quality differs.
Sarkari ponds dry up as the basic treatment like laying the base of the pond with black soil is not done fully. The 'engineer' who heads this project in Shivganga is an 'illiterate' local, master of pond making. The villagers can put pumps to pump out water from the reservoir that serve many families around the pond and nearly the entire village. Ponds hardly dry up. There are 75 plus ponds and reservoirs in the district now. Farmers can take out multiple crops in a year, thus multiplying their incomes.
I met Prakash Ji there who had started the first Ekal Vidyalay of Vanvasi Kalyan Ashram in Jhabua. Ekal Vidyalay is a novel path breaker in education as we know. One teacher schools where the teacher teaches as per children's timing and teaches what they want to learn for formal or informal education. It has revolutionised literacy and education for tribals in remote corners of Bharat. Now he works full time in Shivganga Jhabua. He moves village to village on motor bike to educate and awaken the people about improving their lives.
Bamboo Craft Project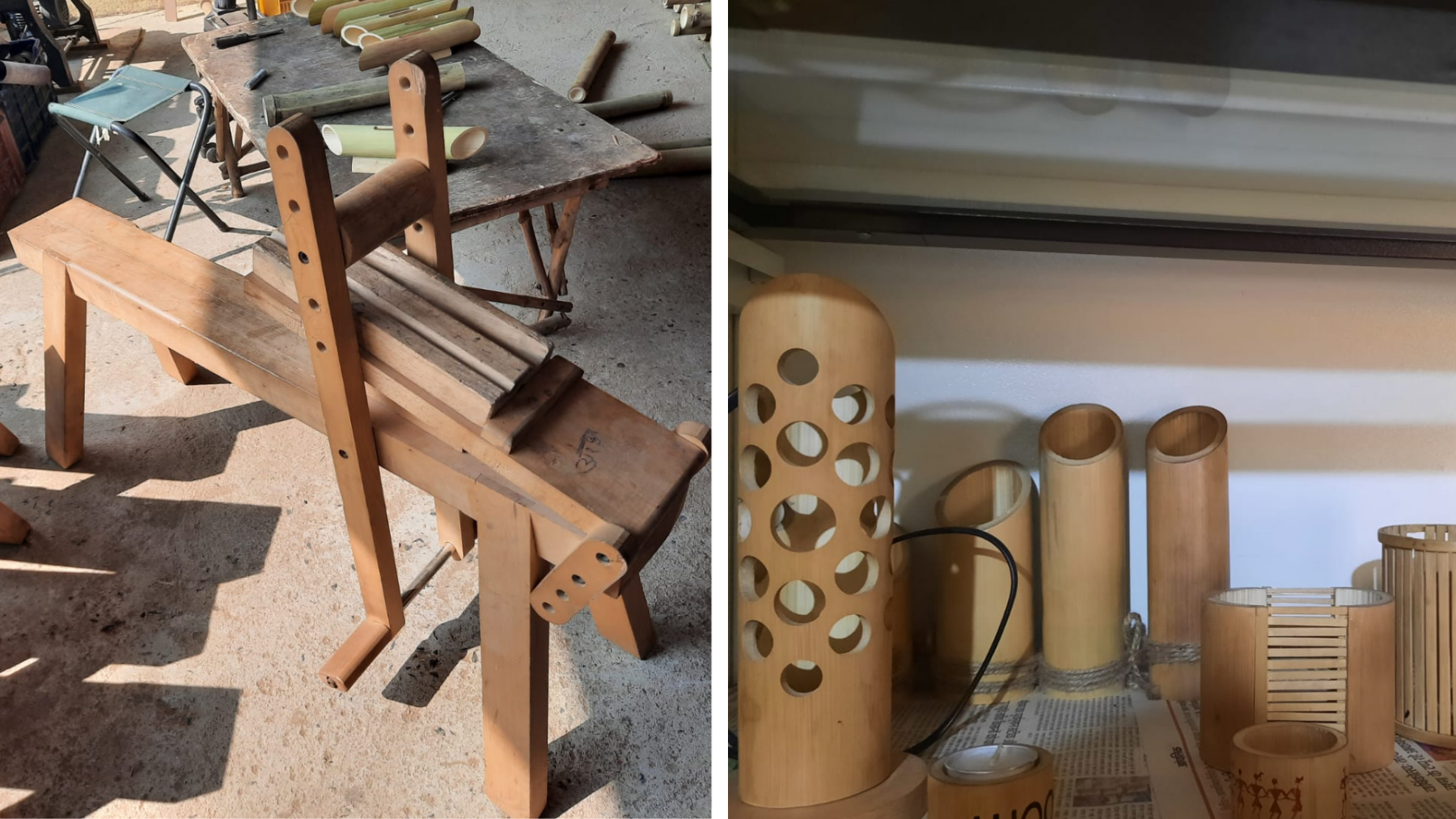 Meghnagar, the initial centre of Shivganga is now a centre for training and manufacturing Bamboo products. The brochure they have created would dazzle you. With a limited product range they have been able to market them to corporates via e-commerce site of theirs. The bamboo skill centre here trains school going young children in the craft. They stay there, go to school and also get trained as younger minds learn faster. There are older boys and girls who actually make the products. They keep innovating even in production techniques. A nursery is being raised with different varieties of bamboos right from Assam to Maharashtra. The young volunteer in-charge of marketing in this centre is another IIT Roorki engineer, Rishabh Seth who hails from Chandigarh. Other two teachers are young locals Kiran Bhuria and Vimal, all full of beans with light smiles on their faces. The centre began in 2013 and picked up steam in 2018.
I talked of Jal, Jungle, Jameen, Janwar in last article. They have added 'Jan' to it. Continuous training in different aspects of human development is also being done. Young boys and girls are encouraged to learn and enhance skills they have. I stayed at the head quarters of the project near Jhabua town where I met Mahesh Sharma ji again. He trains workers and new entrants in the project. There is experimental workshop there. New buildings are being constructed for larger numbers to stay and get trained. There is a special cell for women. Young teenage girls are educated about personal hygiene and other skills in life. They visit villages and educate girls about these issues and other life lessons including education.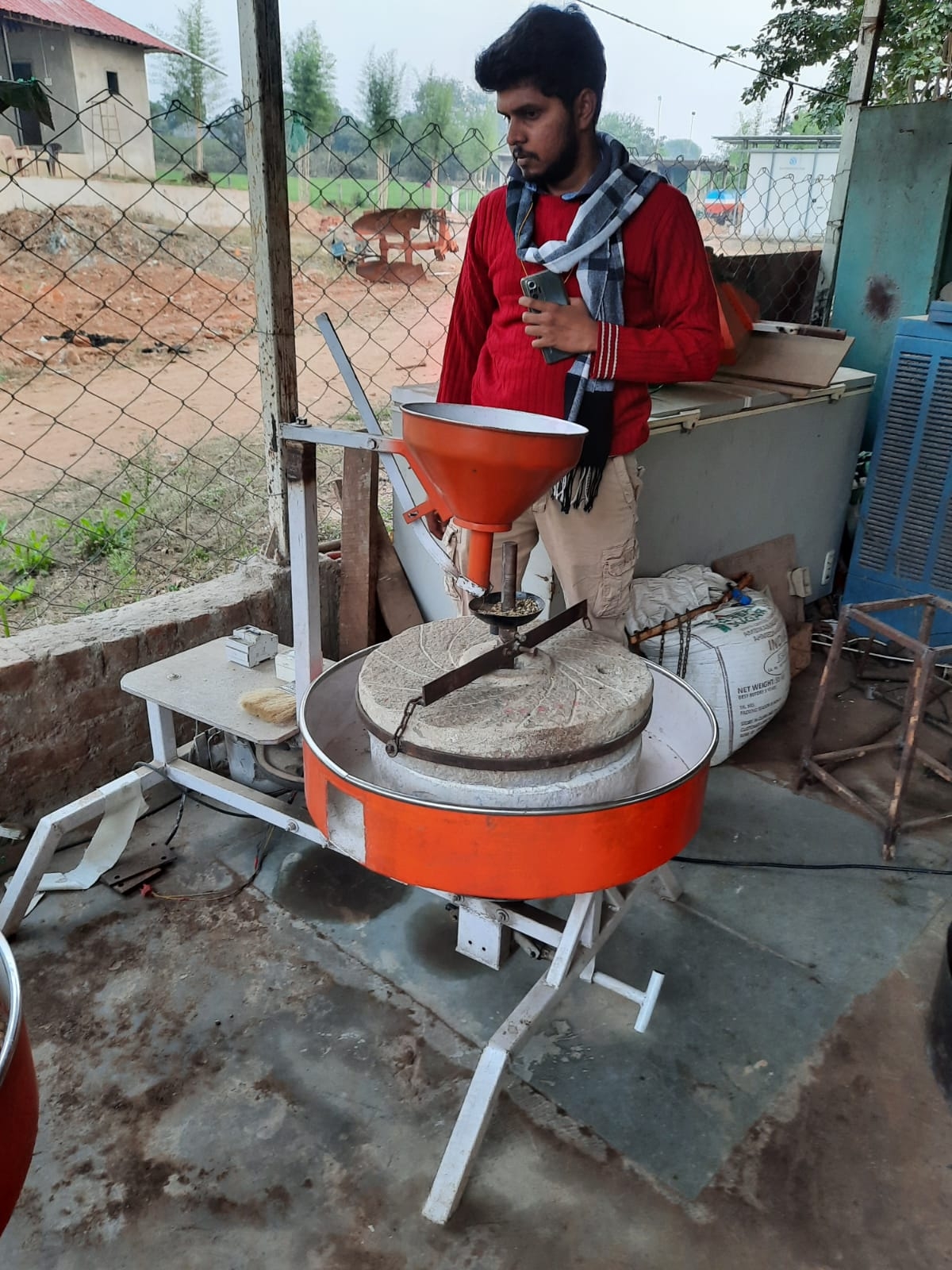 I saw a 'chakki' – flour grinder invented by a bright young boy who couldn't clear his 10th. It grinds like manual chakki at same pace on wooden grinding pieces thus maintaining all the nutrition that machine grinding destroys.
Ever evolving ideas
A team is working on farm-to-fork project with vegetables and cereals going right up to Indore in their own stalls or directly to homes. It is very successful and some bright minds have introduced special packing for organic unpolished cereals or daals. A solar powered cold storage has been purchased to keep vegetables fresh before they are packed as despatched.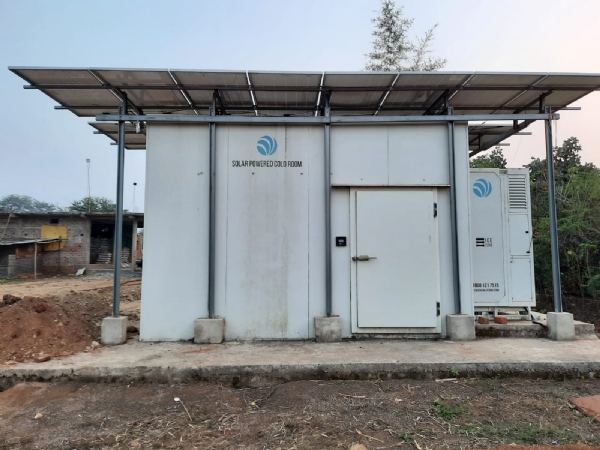 Desi cow breeds are being nurtured with very good results in milk and allied products. A young volunteer is experimenting on organic fertilizers. As they find solutions, they are offered to farmers who are also trained in related aspects of cow rearing and farming.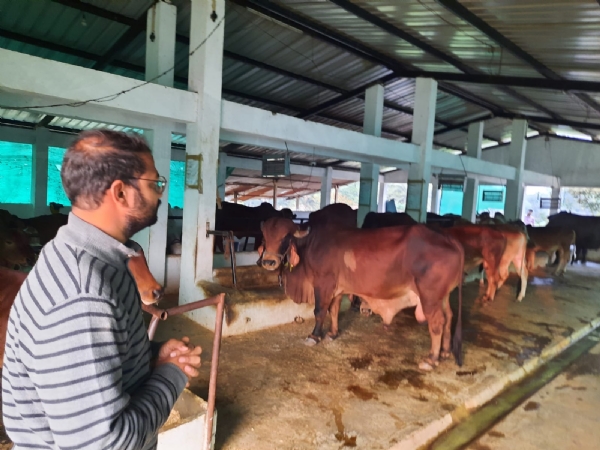 Shivganga is a project where ideas evolve and once accepted get rolled out in different villages. Considering all round health and issue of malnutrition, different kinds of trees – fruit bearing as well as medicinal are encouraged to be planted in homes for which the project provides seeds and saplings. Cleanliness (Swachhata) is also part of this effort. This is an idea of integral approach to health. In the latest addition, a patient care centre has been opened in Jhabua town to facilitate treatment of tribals who come to town for treatment, and do not know where to go, whom to meet. The volunteers do the running around, get them to the right doctors, and try to get efficient and cost effective treatment. It is a great blessing for the poor who land up in unchartered places in hospitals.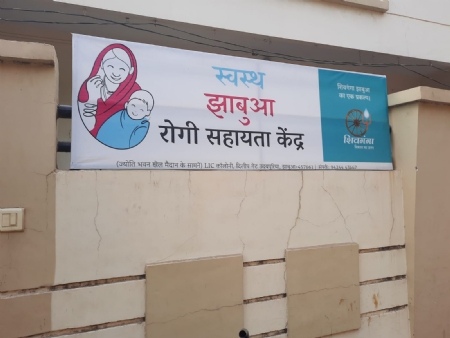 All these dimensions are not being imposed by 'experts', but they are coming from the local people. The lesson as Mahesh ji explains is to stop depending on government doles or help but help each other by volunteering. Not demanding but giving. "Paramarth adharit vikas" as Mahesh ji calls it. This is a call to the noblest of emotions in human beings. It is a project visited now by students of MSW and other voluntary organisations. According to the team, they now have a model of sustainable development which can be replicated anywhere. They are looking to share their experiences with anyone interested in implementing it. Let us wish them all great success in ushering in Naya Bharat.
Shivganga
Vikas ka Jatan
Shivganga is registered under Madhya Pradesh Society Registration Adiniyam 1973
Registration number – 03/27/03/10295/07
IT Exemption U/S 80G,
F.No. CIT-I/Ind/Tech/80G/08/09-10, Dated 24/12/2009, Sl.No. 51/2009-10
Valid from 01/04/09, Extended from AY 2022-23 to AY 2023-24 with
Provisional Approval Number: AADAS4039HF20206.
PAN : AADAS4039H