ABOUT SHIVGANGA
How are we different?
Shivganga Samagra Gramviaks Parishad (SSGP) is a group of Social Entrepreneurs committed to restore the ecosystem of sustainable living through holistic village development. The foundation of this NGO lies in the moral values and ideology that they pro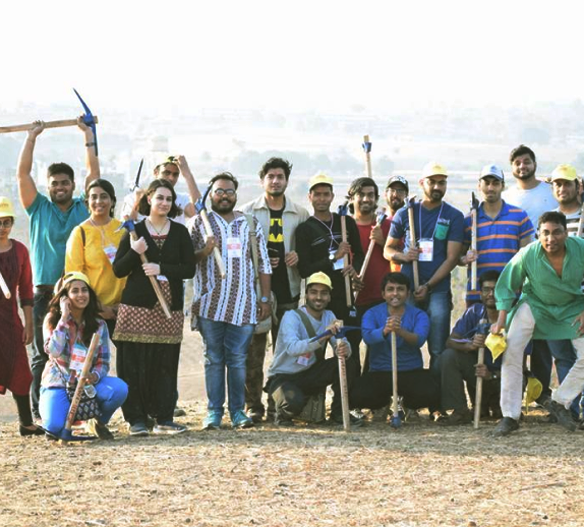 OUR STORY
A Progressive unfoldment
It all started around twenty years back. Mahesh Ji roamed around village-to village in Jhabua for five years, observing and living among the tribal people. He felt that a community living with the highest values of humanity is suffering and is perceived as backward, uncivilised and even 'aboriginal'. Mahesh Ji and Shri Harsh Chouhan - a tribal himself, began discussing a need for a movement. In 2005, along with some tribal social leaders, they organised a training camp for youths. It was the first time the tribal youths of Jhabua were discussing the pain of their community. The water crisis came out to be the most stressful pain. Thus began Shivganga - a movement taking inspiration from Raja Bhagirath's effort to bring Ganga to Earth - to bring Ganga (water) to quench Jamee Mata (mother earth) of Jhabua.  In 2007, it became Shivganga Samagra Gramvikas Parishad - a voluntary nonprofit organisation for 'Holistic Rural Development'.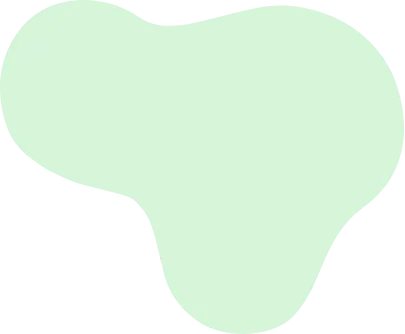 Mahesh Sharma
Founder
Shri Mahesh Sharma spent his formative years in the company of social reformers and leaders. This instilled in him the drive to work towards the betterment of communities. With an experience of over 20 years in the social reform field; he came to Jhabua in 1998 to study the tribal ecosystem there. Over the years, he has developed a deep understanding of the tribal ecosystem and now has networks in over 800 villages. He has played a critical role in bringing the tribal people together and was recently conferred with the 'Padma Shri' in recognition of his tremendous contribution
Harsh Chouhan
Founder
Graduated from SGSITS, B.Tech in Mechanical in 1985, completed in Masters from IIT Delhi. Since 1988, he has been active in the field of social work. Beginning with Vanvasi Kalyan Ashram, he's been part of Shivganga since its conceptual inception in 1998. Shri Harsh Chouhan has been recently appointed as Chairman of NCST - National Commission for Scheduled Caste by the President of India.
Make Your Contribution
Stories of change
FELLOWSHIP
Nitin Dhakad, B.Tech-Electrical-IIT Roorkee (2016), has been in Jhabua for four years. He came to Jhabua in the Image vs Reality program in 2014. After that, he took a fellowship program for two years to develop the Rural Entrepreneurship Incubation Centre. He conceptualized and initiated Jhabua Naturals. As a full-time volunteer, he is coordinator of the Image vs Reality program, heading Jhabua Crafts venture and engaged in various projects of urban outreach and fundraising.
NITIN DHAKAD
FELLOWSHIP
Vishwanath Allannavar, BA-LLB-Bangalore University - Law College(2018), has been working with Shivganga for three years. He came to Jhabua in 2016 through the Image vs Reality program. After some visits, he became a fellow for two years, taking up a project of Social Capital Generation through Youth Empowerment Camps. As a full-time volunteer, Vishwanath is engaged in various projects like Community Forests Rights and Jan Samvardhan dimension of Shivganga.
Vishwanath Allannavar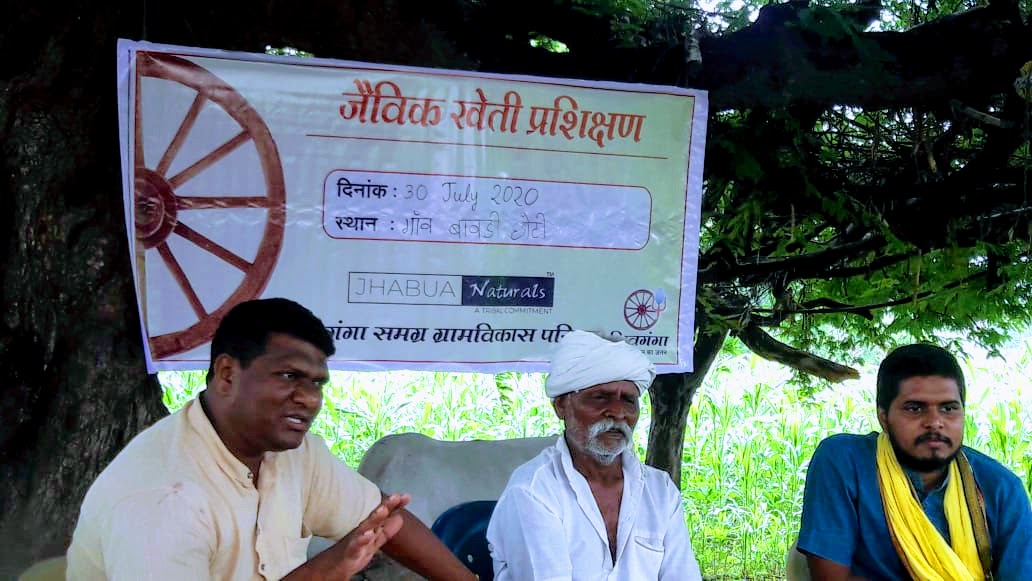 FELLOWSHIP
Satyajeet Patel, B.Tech-Electrical-IIT Roorkee(2018), completed his two-year fellowship this year(2021). He came to Jhabua in his college days in 2016 under the Image vs Reality program. He, with Shivganga's tribal entrepreneur - Vijendra Amaliyar-has led the Jhabua Naturals venture in his fellowship. Now a full-time volunteer, Satyajeet is serving as Project Leader of Jhabua Naturals. The duo is also leading the Nav-Vigyan Samvardhan dimension, under which the Rural Technology Innovation Lab has been initiated. 
Satyajeet Patel
FELLOWSHIP
Kumar Harsh, B.Arch-IIT Roorkee(2020), is pursuing the fellowship program of Shivganga for one year. He came to Jhabua in 2018 under the Image vs Reality program and also did his final year thesis in Jhabua. Today, he is involved in the Communication Design team and other projects in Shivganga's Dharmapuri Gurukul.
Kumar Harsh
FELLOWSHIP
Rishabh Seth, B.Tech-IIT Roorkee(2019), met Shri Mahesh Sharma and Nitin Dhakad in Vision India Foundation's program in Delhi in 2018. Inspired by their address on Rural Development, post-college, Rishabh left his job and came to Jhabua in 2020. As a fellow, he is now involved in the Jhabua Tourism venture and Bamboo Training Centre at Meghnagar.
Rishabh Seth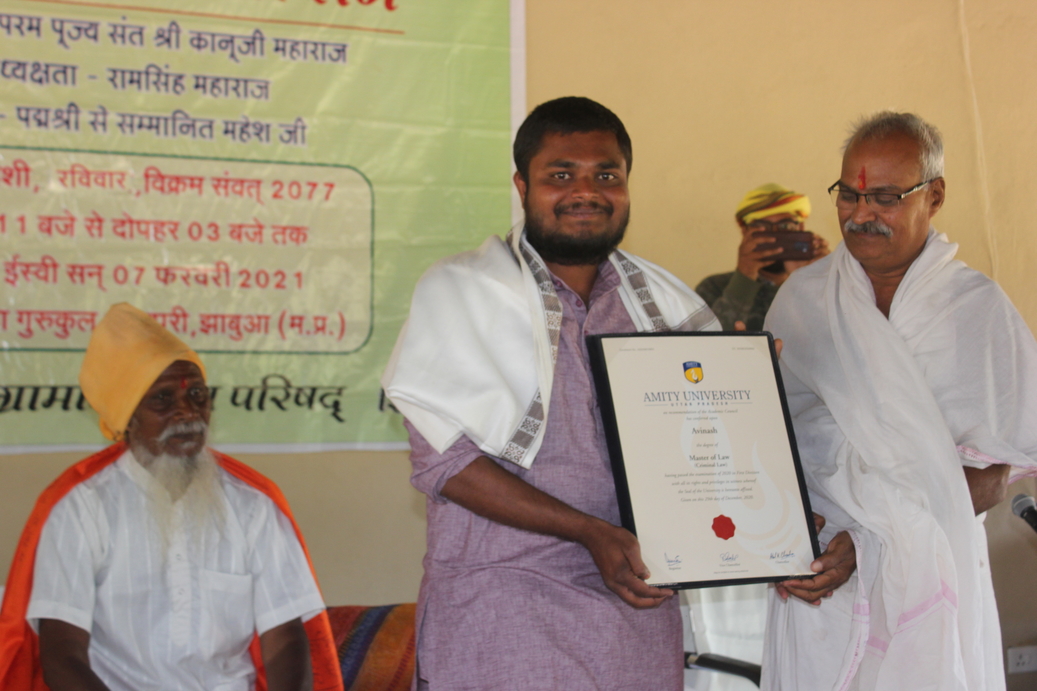 FELLOWSHIP
Avinash Mattur, LLM-Amity University (2020), came to Jhabua in 2019 under the Image vs Reality program. After completing his studies, he took on the project of Community Forest Rights in Jhabua. Since then, as a fellow, he has been working on the CFR project spread over 25 villages. 
Avinash Mattur
Shivganga
Vikas ka Jatan
Shivganga is registered under Madhya Pradesh Society Registration Adiniyam 1973
Registration number – 03/27/03/10295/07
IT Exemption U/S 80G,
F.No. CIT-I/Ind/Tech/80G/08/09-10, Dated 24/12/2009, Sl.No. 51/2009-10
Valid from 01/04/09, Extended from AY 2022-23 to AY 2023-24 with
Provisional Approval Number: AADAS4039HF20206.
PAN : AADAS4039H